It's taken me a long time to appreciate the gifts my body has to share. One of the keys has been my work with Joy Brown. Whether it's during private sessions or in class, Joy's impeccably clear approach to fitness is packed with fun. Joy's talent for pinpointing details shines during our one-on-one sessions. I am amazed how, with a comment or question, she guides me toward awareness of habitual patterns of movement. That awareness helps me feel encouraged to make shifts that build strength and confidence. In spite of all the expertise Joy brings to the experience, I never feel like she takes over and tells me what to do. She steps in by honoring where I am and taking me where I want to go. It feels very empowering. Joy's formula of mixing fun with variety really works for me! My psyche appreciates the light-heartedness while my muscles are discovering their strength. It's a formula that keeps me coming back for more.
Joi Ross-Moore, M.Ed.
Counselor, Movement Facilitator
I just want to thank you for the physical fitness I am achieving with your guidance. I am thankful for all trainers, instructors etc., that help keep our bodies moving. It is never boring during our hour together as you always have a written program for the day, with something new each time. The way you plan the program specifically for my body is very helpful. The fact that you are such an "evil taskmaster," as I like to tell you, and never let me slack off for even a minute keeps me on my toes. The undivided attention in the one on one sessions assures that I am working every abdominal muscle, and breathing correctly, even if we are just exercising the ankle. The use of the reformer and the Cadillac table give me extra stretches that I need so much. Your encouragement to get my body to do things I never thought possible makes me smile when I achieve a new goal. The fact that you take the time to watch videos and create personal workouts for golf is something I could not get anywhere else.
Nancy Vernon
Mover Shaker
Thank you, Joy, for your support and positivity as well adding fun, a new circle of friends and healing into my life. You know that I attribute a good, healthy part of my 125 pounds weight loss to NIA. You've also helped me build confidence to express myself and to enjoy dancing (from NIA to country western to ballroom) in front of audiences at dance showcases. Experience the life-changing benefits of NIA!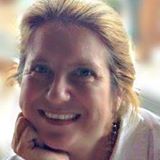 Kelly Norton
Media Relations Coordinator